Getting started
Reseller account
The HOOC Management Portal is used to manage and configure the HOOC Solution. A reseller is a user of the HOOC Solution who can centrally manage his customer base and all sites as well as their services under his account.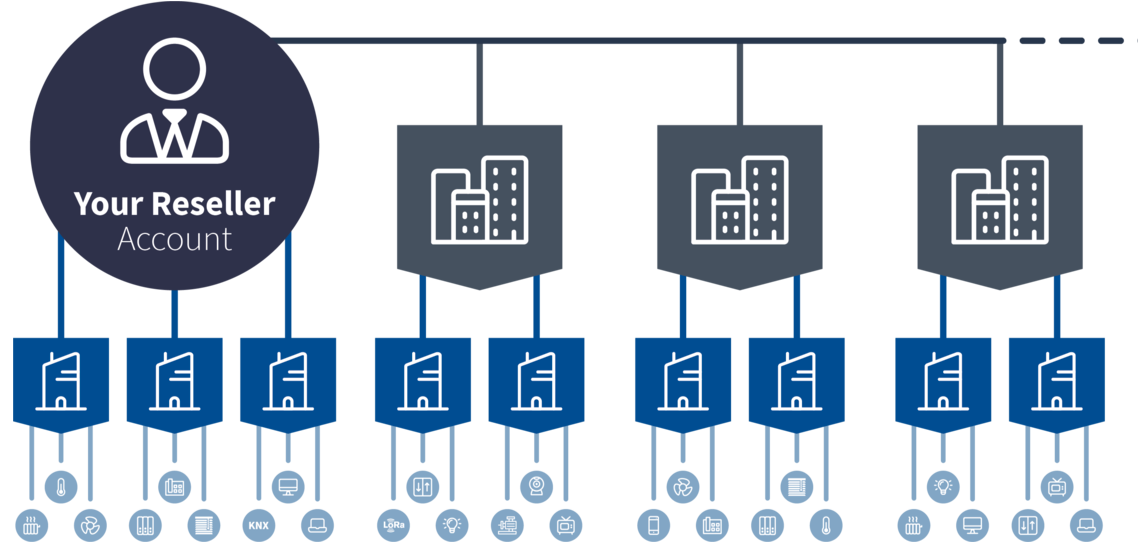 How do I register as a reseller?
Open the webpage HOOC Management Portal in your browser
Navigate to the registration form (Register here)
Fill in the form and register

HOOC checks the data and sends an e-mail from the sender no-reply@hooc.ch to the e-mail address entered to verify the data.

If you have not received an e-mail within a reasonable time, please check your SPAM folder.

Follow the instructions in the email
Set and confirm password for the reseller account
After successful entries the reseller is registered and will be logged in automatically.
Setting up two-factor authentication
Two-factor authentication provides an additional layer of security for the HOOC Solution. It ensures that only you can access your account, even if someone else knows your password.
In order to use two-factor authentication, an application is required that implements the HOOC provided TOTP key. Below is a possible selection:
| OS | TOTP Apps |
| --- | --- |
| iOS | OTP Auth, Google Authenticator |
| Android | FreeOTP Authenticator, Google Authenticator |
To set up your two-factor authentication, follow the steps below:
Navigation to personal account
Navigation to the security settings
Enable two-factor authentication
Scanning in generated QR code with the two-factor authentication app
Enter the code from the two-factor authentication app and confirm by clicking on Verify code.
Two-factor authentication is then activated for future logins.
It is recommended to generate backup codes and keep them in a safe place in case your device gets lost with the configure TOTP app.
Setting up the first site
After successful registration of the reseller account, a site can be created and set up. It is not necessary to create a customer account.
Navigation to the sites
Add a site
Fill in the form and confirm

The site has been created and can now be configured.

Go to site
Enter the serial number HOOC Connect and link Gateway
Your HOOC Connect is now linked to the created site.
How do you connect to the site?
After setting up the first site, the SERA service (Secure Remote Access) can be used. The instructions for the various clients can be found in the respective site management.
Navigation to services
Navigation to Remote Access
Navigation to HOOC Client
Select platform and follow instructions