HOOC Connect L
Manual
Interfaces and controls
Configuration
The parameterization of the HOOC Gateways (series L) can be done via browser.
The device by default obtains an IP address via DHCP. In addition, the HOOC Gateway is configured with a static IP address 172.17.17.17.
Establish connection to the HOOC Gateway
Follow the instructions below to connect (your PC) to the HOOC Gateway:
Connect the HOOC Gateway to the power supply
Wait until the device has started up (approx. 1min)
Connect your PC to the network port of the HOOC Gateway, or to the switch to which the HOOC Gateway is connected to.
Set the IP address of your network adapter to 172.17.17.16 with the subnet mask 255.255.255.0
In your browser (preferably Google Chrome) open the URL 172.17.17.17
Configuration mode
Enter configuration mode
Local
The configuration mode can be activated by pressing the reset button briefly (1 sec).
from Remote
The configuration mode can be activated remotely with the HOOC App. The activation code of a HOOC Gateway can be generated either in the sites overview or in the menu "Secure Remote Access".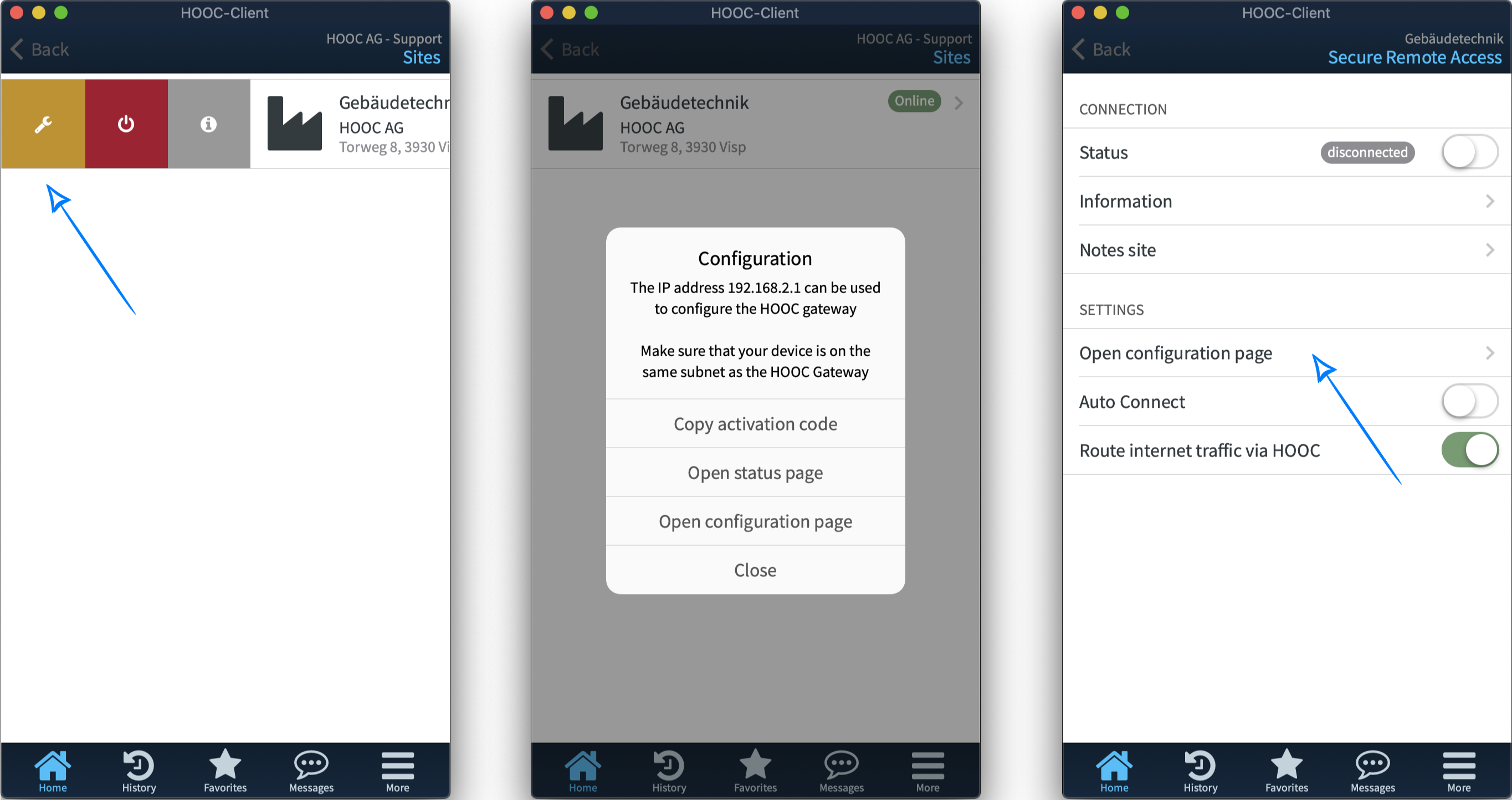 The generated code can now be used to activate the configuration mode.
If the configuration mode is active, the power LED (red) lights up continuously.
Exit configuration mode
The configuration mode can be deactivated by pressing the Leave configuration mode item, or it automatically dactivates 30 seconds after disconnecting from the configuration page.
If the configuration mode is inactive, the power LED flashes white.
Apply configuration
Once new settings have been made, they can be transferred to the HOOC Gateway by clicking on the Apply changes element.
Configuration network port
The device by default obtains an IP address via DHCP. If required, this IP address can be defined statically.
SERA Settings
SERA can be activated or deactivated here.
Deactivating will prevent the HOOC Gateway to connect to the HOOC Cloud and the services of HOOC will no longer be usable.
Security Settings
When deactivating the setting "Allow enter config mode by pressing reset button", the configuration mode cannot be more can be activated with the reset button (local). The activation of the configuration mode can only be done with an activation code take place. Thus, persons without access authorization to the site cannot reconfigure the device.
Advanced Settings
The advanced settings shows the device status and the device information.
Restart HOOC Connect
The device can be rebooted by clicking on the Restart element without interrupting the power supply.
Reset to default settings
Clicking on the Reset element resets the device to the factory settings.
Firmware update
HOOC recommends regular updates of the firmware. The firmware can be downloaded from the HOOC Management Portal at the corresponding site under the menu HOOC Gateway -> Configuration.
Follow the instructions in the configuration tool and make sure that the power is not interrupted during the upgrade process!